Chimfunshi Wildlife Orphanage
The Chimfunshi Wildlife Orphanage was founded by David and Sheila Siddle in 1983. Longtime British ex-patriots, the Siddles had been cattle ranchers in northern Zambia for many years when the couple's son-in-law (a game ranger) asked them to care for a badly wounded infant chimpanzee he had confiscated from poachers. They had barely nursed that chimp back to health before they were presented with another chimpanzee in need of help, then another. Word spread quickly through the area, and it was only a matter of time before they had a full-fledged refuge -- mostly for chimpanzees, but for other endangered animals as well (even a hippo, who still freely roams the property).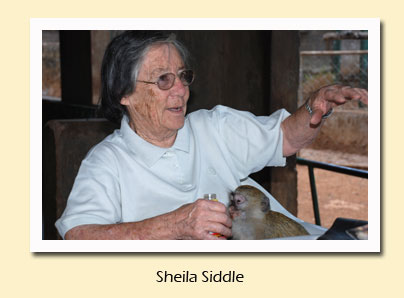 Chimfunshi (meaning "place of water" in the local language) is now a renowned organization and has been used a a model for chimpanzee sanctuaries across Africa. It has received numerous awards and honors, including the Jane Goodall Award and MBEs by Queen Elizabeth II in a ceremony at Buckingham Palace.
In June of 2006, David Siddle died at the age of 78. Although the major portion of the refuge has now been placed in a trust to ensure lasting care for the chimps, Sheila Siddle and her daughter, Sylvia, still oversee the place, with Innocent Mulenga, a local Zambian, acting as manager.
There are four areas of Chimfunshi. The Project houses around 120 chimps in four social groups over 1,500 acres. The Orphanage offers special care for new chimps or chimps needing medical attention. The Visitors Compound includes the office, an education center, and several self-service cottages for visitors. Local staff members and their families live in the village, which includes a school built from private funds in memory of David Siddle.
Did you know...
Chimpanzees are not indigenous to Zambia, but they do live in the jungles of the adjacent Congo. Although it is illegal, poachers often kill adult chimpanzees for "bush meat" and try to smuggle infant chimps out of the country, where they can sell them to zoos or research laboratories for up to $1,000.
Throughout the years, the Siddles battled poachers, civil wars, economic strife, political instability, and corruption to preserve the safety of their charges. Chimfunshi receives no government funding and completely relies on donations for its survival.
The story of Chimfunshi is beautifully told in Sheila Siddle's autobiography, In My Family Tree: A Life with Chimpanzees.