Kate and Jennifer's African Adventures
Going to Africa has always been a dream of mine. It started with the music, I suppose. Falling in love with African dancing. And soaking up documentaries about the continent. The wildlife, the vastness of the countryside, natural wonders. But mostly, the people. I am drawn to the culture.

Now, there's a lot that goes on in Africa that's not good. Tribal wars, genocide, political corruption, floods, droughts, widespread AIDS, whole nations of people fighting starvation. But even with the hardships that they face, there is this undeniable, irrepressable spirit in the African people. And you see it in their faces. And that, as much as anything, is what both Kate and I fell in love with. Even though I was the one pushing to get us to Africa, Kate is the one saying, "When are we going back?"

Our Itinerary
How much can you pack into a three-week trip? An awful lot. Especially when you've got an excited friend who's determined to make this the trip of your lifetime! View itinerary.
Map
Zambia is in the southern portion of Africa. (Roll your mouse pointer over the map to zoom it.)
We flew into Lusaka, the capitol of Zambia. When we drove to Chimfunshi, we took the highway north to Ndola, then a smaller, very rough highway west to Chingola. Chimfunshi is right on the border of the Republic of Congo (previously part of Zaire).

When we went on the canoe trip, we drove southeast from Lusaka to Chirundu, just on the border of Zimbabwe.

When we drove to Livingstone, we took the southern highway to the border of Zibabwe.

When we drove to Ngepi Camp, we drove east from Livingstone into the country of Namibia. Ngepi Camp is on the Caprivi Strip, just north of Botswana.
How Does a Couple of Modest Means Afford THAT During a Recession?
Determination, ingenuity, flexibility, and really good friends. First, we set aside money in a special savings account for over a year. Then, when we took advantage of lower interest rates to refinance our home, we took out extra money for the trip. After the airline tickets and our London hotel, we had $3,000 left for Africa fun. Our friend and host, Judith, got on task and came up with our itinerary (above). All sorts of fun adventures at extremely reasonable prices. Of course, it really helped that we were staying at their house in between adventures and she was driving us everywhere (stubbornly refusing help with gas). But it is possible to experience Africa well without paying thousands of dollars for a high-end safari.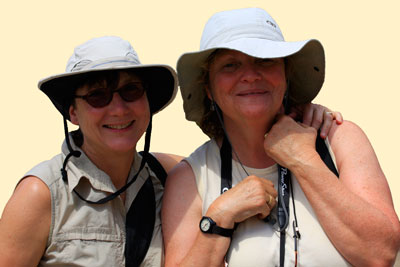 We managed to stay more or less within budget. And when we hit London a little penny poor, we hoofed it, took city buses, got meals at grocery stores, went to free museums, and had a fabulous time.
Unforgettable African and London vacation for two: under $7,000.
Credit card debt: $0
Life-changing memories and experiences: priceless!
(Besides, we're now trillionaires!!)